Prime London Lettings Spring Market Overview 2018
The first three months of the year has typically been a busy time for My City Nest with lots of new instructions post Christmas holidays and yet this year has been an exception. There is less stock on the market and we have seen an increase in tenants renewing their tenancy. I can see the same trends across prime London markets as we review the Lonres Spring 2018 property sales overview report and wanted to share Some key take away's:
The first three months of 2018 marked the forth consecutive quarter when new instructions across our three prime areas fell.
Over the last three months there were 11% fewer properties listed compared with the same period a year ago.
Fewer new instruction means less available properties which is down by 29% across three prime areas, compared with Q1 2017.
While tenants are still up for negotiating, average discount off initial asking prices fell to 6.4% this quarter, a reduction on Q1 2017 when average discount peaked at 8.2%.
Tenants are now more inclined to renew and remain in their current property than look for an alternative.
Across three three areas there were 10% fewer properties let 2018 compared with the same period last year.
Market conditions have benefitted landlords who have experienced shorter average voids this quarter.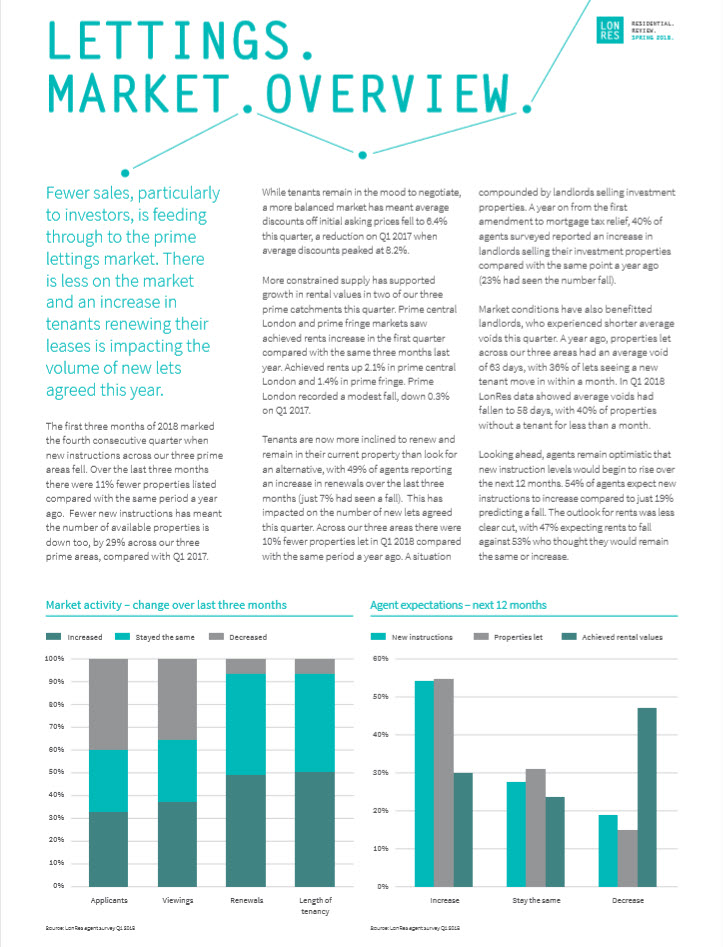 Click Here To Download Report