Fewer new instructions are reaching the Lettings market as tenants in the prime post codes continue to hold back on purchasing their home and investors remain cautious about the Buy To Let market.
This lack of supply has meant a drop in transactions but not necessarily a weakening in demand.
In Lonres most recent survey 57% of fellow agents reported an increase in renewals over the last three months, against just 7% reporting a fall.
This has meant Q1 2019 was the sixth consecutive quarter where the number of new lets fell on an annual basis.
This quarter, there were 14% fewer new lets agreed across Lonres three prime catchments compared with Q1 2018. Prime central London recorded a more modest fall of 7.6% but prime fringe saw 24% fewer new lets in Q1 2019.
Landlords are evidently keeping the same level of rent in an attempt to keep long term tenants happy and avoid having to risk any void periods
The latest survey indicates that fellow agents are confident about the next 12 months and expecting overall demand to increase with the exception of the European market which understandably is expected to decrease.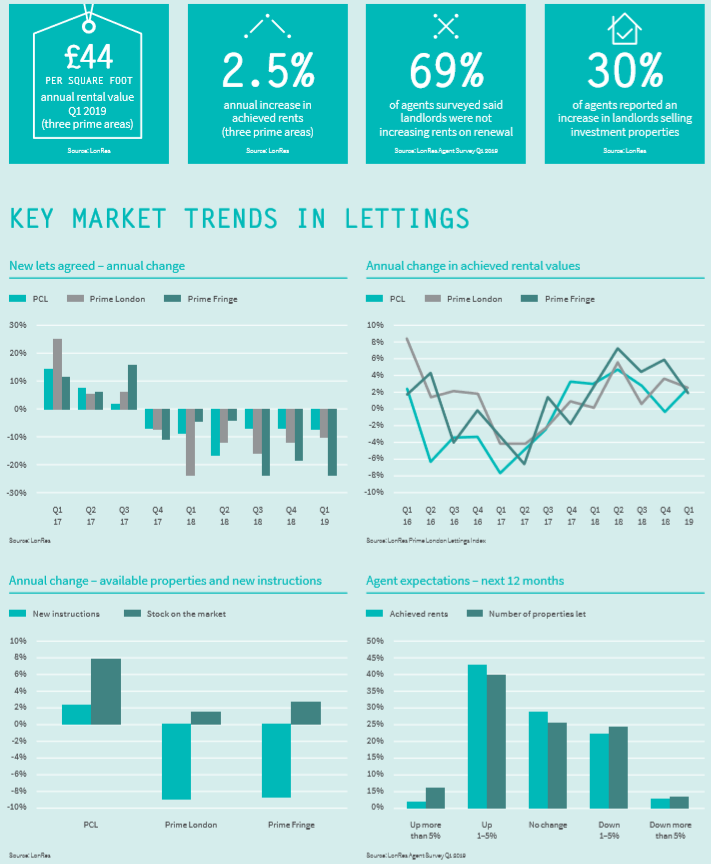 Disclaimer - My City Nest provides this Lonres data "as is". The burden for fitness of the data relies completely with the user and is provided for informational purposes only. No warranty, express or implied, is given relating to the accuracy of content of Lonres data and My City Nest Ltd does not accept any liability for error or omission.