With the prolonged timeline for Britain's exit from the European Union - now extended until Oct. 31 sellers and buyers alike will now be faced with the decision to put their plans on hold or get on with their selling or buying commitments.
Both the prime fringe market and prime London saw a drop in activity in the first quarter when compared to the same period a year ago.
Prime central London, which historically has led, both in a downturn and a recovery, saw an overall fall in transactions of just 1% on Q1 2018. Yes, the market between £2 million and £5 million was still quiet, but sales below £2 million rose 21% and above £5 million increased by 3% compared with Q1 2018.
In the current market it is no only buyers who are nervous but seller entering the market. In Q1 2019 the number of new instructions dropped 27% across three prime catchments, with prime central London seeing a 39% fall in new properties listed, compared with the same three months a year earlier.
Yet, Lonres agents report that demand levels are rising. The results of their most recent survey suggest that prospective buyers are gearing up to purchase. 52% of agents also reported an increase in applicants registering to buy, with just 13% seeing fewer registrations over the last three months. They also remain confident that both transactions and new instructions will rise in the coming year.
The property market will continue to be challenging. Yet, we have seen momentum build up over the last few years. The fact that more buyers are registering their interest could mean that the latest Brexit extension is the final push needed to get them off the fence and commit to making a purchase.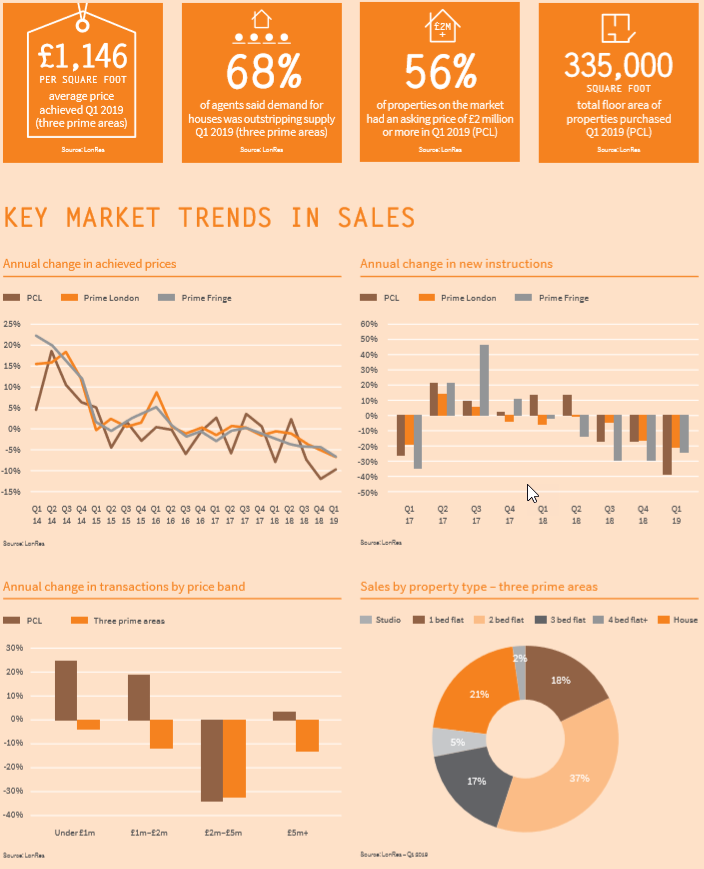 Disclaimer - My City Nest provides this Lonres data "as is". The burden for fitness of the data relies completely with the user and is provided for informational purposes only. No warranty, express or implied, is given relating to the accuracy of content of Lonres data and My City Nest Ltd does not accept any liability for error or omission.